Interpal's Cardiff 'Charity Dinner'
On the 30th March, UK charity Interpal is hosting a 'Charity Dinner' in Cardiff.
The announced speakers are: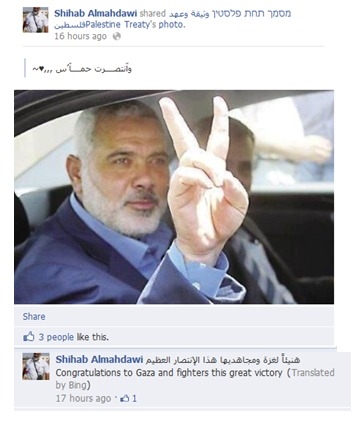 Shihab Al-Mahdawi is an Interpal staffer based in Birmingham. Mahdawi, during the conflict in the Gaza Strip last November, posted on Facebook a picture of Hamas leader Ismail Haniyeh, accompanied by a note praising Hamas terrorists.
Mahdawi has previously given talks explaining the philosophy of Muslim Brotherhood founder Hasan Al Banna. Further, he has spoken alongside extremist hate preachers from the iERA. (for more information on the iERA, see our report here)
Majdi Aqil (aka Akeel) – a Palestinian from Gaza who now lives in the UK. Aqil is also a trustee of the Palestinian Return Centre (PRC), an openly pro-Hamas organisation (Ghassan Faour, another Interpal trustee, is also a trustee of the PRC). In 1988, a New York Times article named Aqil as one of a number of Hamas members and Islamic University employees arrested by Israel in anti-Hamas operations. In 1994, a Ha'aretz article also named Aqil as a Hamas "activist", as well as a lecturer at the Islamic University of Gaza, a Hamas stronghold.
Aqil appeared in two court exhibits in the Holy Land Foundation case in the USA. Firstly, Aqil was listed in an address book belonging to leading Hamas representative Mousa Abu Marzook. Secondly, Aqil was mentioned in a transcript of an intercepted telephone conversation in 1994 between Haitham Maghawri, a former director of the Holy Land Foundation who has been found guilty in absentia of providing material support to Hamas, and Muin Shabib, a Hamas operative mentioned in the BBC Panorama programme about Interpal. In the recording, Maghawri was heard speaking of his support for a visa application made by Akeel.
Merryl Wyn Davies is a Welsh convert to Islam. She is the author of a book entitled 'Why Do People Hate America?', which posits that the USA is a violent authoritarian state. She has said of Israel that, "A state that becomes an increasingly exclusive Jewish state with a Zionist ideology has to be a problem."